Lactoactive®: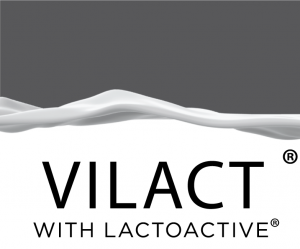 Lactoactive® is a high-tech refined processing of colostrum, which contains a high proportion of immunestimulerings substances, growth substances, vitamins, minerals, and enzymes. By reinforcing these, we make it possible for the final ingredients to work with the body's own natural defenses. During the process the active substance is extracted and processed into particles that are so small that they can penetrate the skin. It is this fact, which is extremely interesting, since that the skin change often occurs in the tissue. The amount of the various ingredients is concentrated to such an extent in Lactoactive® that technology has demonstrated properties that are usually only seen before in drugs for use in various skin issues. However, with the main difference that Lactoactive® have no known side effects.
By undergoing this process these ingredients achieve a degree of effectiveness far greater than seen before. In fact, the particle protein content yield is up to 82%, compared to the normal 50 to 60%. The proteins in Vilact® are active for a longer period of time without being broken down by enzymes, meaning they works for longer in the skin. The active agents are more resistant to break-down and work more effectively. In other words, the active agents continue benefiting the skin for longer than before, giving the components time to act in the tissue.
Lactoactive® is developed in collaboration with Dr. Ninfa Rangel Pedersen (PhD) and Dr. Budi Juliman Hidayat (PhD) and is naturally patented. The development process also involved external specialists, among others, Dr. Dietmar Fuchs, Division of Biological Chemistry Biocentre, Innsbruck Medical University, Austria. Prof. Raymond Playford PhD, FRCPath, FRCP, FMedSci, Queen Mary Medical College from the University of London has demonstrated that human cells propagate themselves with the use of Vilact® with positive results. The results also showed that, the skin cream maintains its effect for such a long time that a therapeutic effect is possible. By strengthening these we make it possible for the final ingredients to collaborate with the body's own health system.
Lactoactive® has unique results and very good customer respond.